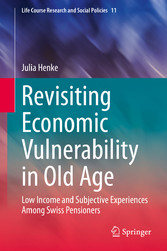 Revisiting Economic Vulnerability in Old Age - Low Income and Subjective Experiences Among Swiss Pensioners
von: Julia Henke
Springer-Verlag, 2020
ISBN: 9783030363239
Sprache: Englisch
319 Seiten
,
Download: 6703 KB

Format: PDF, auch als Online-Lesen

Mehr zum Inhalt

Revisiting Economic Vulnerability in Old Age - Low Income and Subjective Experiences Among Swiss Pensioners
This book offers an interdisciplinary analysis of the experience of economic vulnerability among older adults. Drawing on various fields ranging from happiness, economics to stress research, it integrates assessments from objective and subjective measurement perspectives. The book offers nuanced insights into prevalent experiences of low economic quality of life in wealthy countries, using empirical data from Switzerland. A sample of some 1500 adults aged 65-84 is taken as the basis for a systematic comparison of the demographic and socioeconomic characteristics of three - overlapping - groups of potentially vulnerable pensioners: those who are income-poor (objective measure), those who report difficulties making ends meet (subjectively self-assessed measure) and those who worry about not having enough money for current expenses (subjectively perceived measure). Theoretical and empirical evidence is offered for the distinctiveness of the two subjective indicators, one of which assesses the experience of economic strain while the other captures the individual's response in terms of stress. The conceptual contribution of this research includes a typology of economic vulnerability: eight distinct profiles emerge at the intersection of the objective, self-assessed and perceived measures. These profiles correspond to specific risk constellations, and they reflect varying degrees of human agency in dealing with economic vulnerability.
Julia Henke obtained her PhD in socioeconomics at the University of Geneva, Switzerland, in collaboration with the Swiss National Centre of Competence in Research LIVES. Her research interests focus on quality of life, specifically the intersection of economic and psychological well-being. During her doctoral studies she started working for a development organization and since 2016 she works as a researcher in the communications department of a humanitarian organization.