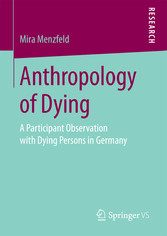 Anthropology of Dying - A Participant Observation with Dying Persons in Germany
von: Mira Menzfeld
Springer VS, 2017
ISBN: 9783658198268
Sprache: Englisch
282 Seiten
,
Download: 2141 KB

Format: PDF, auch als Online-Lesen

Mira Menzfeld explores dying persons' experiences of their own dying processes. She reveals cultural specificities of pre-exital dying in contemporary Germany, paying special attention to how concepts of dying '(un)well' are perceived and realized by dying persons. Her methodological focus centers on classical ethnographic approaches: Close participant observation as well as informal and semi-structured conversations. For a better understanding of the specificities of dying in contemporary Germany, the author provides a refined definition catalogue of adequate terms to describe dying from an anthropological perspective.
Mira Menzfeld worked as a cultural anthropologist, journalist, and advertising editor. She is currently researching Salafits in Europe and voluntarily attending dying persons.