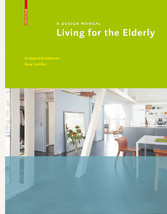 Living for the Elderly - A Design Manual
von: Eckhard Feddersen, Insa Lüdtke
Birkhäuser, 2012
ISBN: 9783034608961
Sprache: Englisch
248 Seiten
,
Download: 33213 KB

Format: PDF, auch als Online-Lesen

Quality living in old age is one of the important topics of our time. Intelligent design solutions can push back the limits on housing and care, in favor of a comprehensive trend toward integrated forms of living. A third of the volume provides detailed expert information, a section of examples provides building and living typologies.
Eckhard Feddersen, born 1946, is an architect specializing in building for handicapped people, children and the elderly. Insa Lüdtke, born 1972, is an architect and journalist. Both founded Cocon Concept in 2008, a consultant partner firm for all actors in the field of building for the elderly.